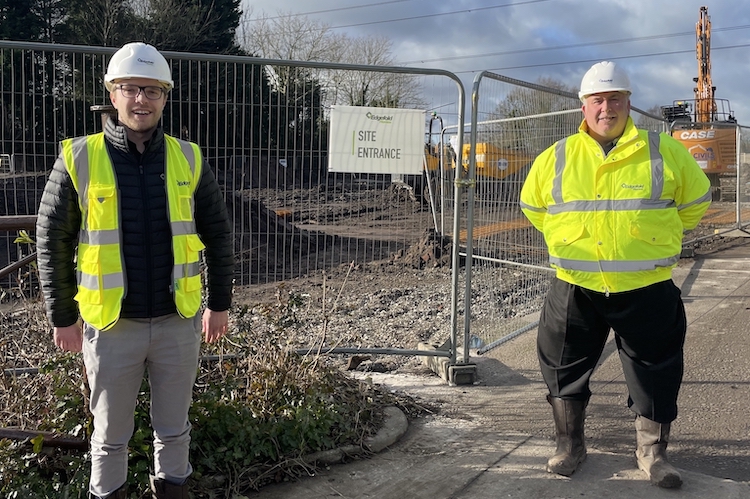 We've welcomed two new senior staff members as we break ground at a site in Cheshire.
Charlie Welsby has joined the company as Site Manager for a new development of seven luxury homes in Dunham Massey while Steven Bowen has joined the team as Senior Quantity Surveyor working across Edgefold's portfolio of sites.
The two appointments and the new development have led to a positive start for 2022.
We began work on our Barns Lane scheme in Dunham Massey in early January and Charlie Welsby joined the company in December as Site Manager to lead the project.
He brings with him more than 20 years' experience in the construction industry and he is relishing the opportunity to work at Edgefold Homes and take charge of the site. He said:
"After working as Contracts Manager across lots of different sites for many years I am delighted to have made the move to this new position.
"The biggest draw for me was to be able to concentrate fully on one site and ensure that the process runs as smoothly as possible and the team has been really welcoming."
Charlie's appointment comes following the arrival of Steven Bowen as Senior Quantity Surveyor in late 2021.
After ten years in the construction sector, he was looking for an opportunity to work with a team that understands that price is not the only element when it comes to choosing contractors and suppliers.
He said: "I am lucky to have worked at companies of all different sizes during my career as it gave me the opportunity to decide what was important to me as an individual.
"After meeting with the management team at Edgefold I knew that they shared my vision for quality and good service, so it was a natural fit."
Edgefold Homes' Barns Lane development will offer seven large, individual properties with elegant traditional external detailing matched with a high-quality internal specification.
The location offers countryside living close to Hale and Altrincham centres.
Jack Seddon, who is Construction Director here at Edgefold Homes is looking forward to a successful 2022. He said: "We are absolutely delighted to welcome Charlie and Steven.
"Not only do they both bring a wealth of experience, but they share the ethos and values of Edgefold Homes, which is absolutely vital to us as a business.
"We have all been very impressed with the way they have integrated into the team and they have hit the ground running, which is brilliant.
'We're really enthusiastic about the future and it is great to see that our newest development, Barns Lane, is up and running."