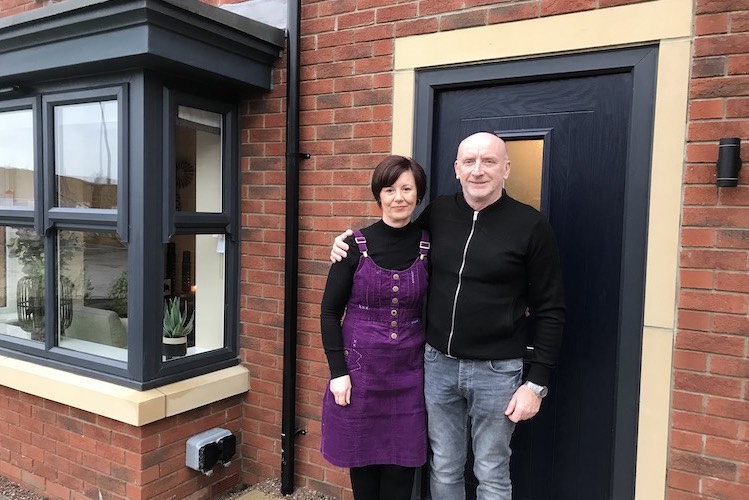 When Christine and Kevin Smith saw the brochure for our Lightshaw properties their plans to downsize from the three bedroomed house they had lived in for 25 years changed instantly!

Now, just months later, they have become the first residents on our Hazelfield Gardens development and are looking forward to happy times in their new home.

The couple, who have two grown up children, have moved from Salford to start their new life and have been absolutely thrilled with the service they have received from Edgefold Homes. Christine said: "We had been toying with the idea of moving for a while and wanted somewhere that was more open and less built up, but our original plan had been to downsize as both children are grown up.

"We heard about Hazelfield Gardens and went to look, and we instantly fell in love with the Lightshaw – despite it being a much bigger four bedroom house!

"I have just changed jobs so one of the bedrooms will be used as my home office, while the others will be used as guest rooms for when our children and friends come to stay.

"The specifications of the property are very high quality and we both made the decision to go for it. From initial enquiry through to putting our reservation fee down and moving in, every step of the process has been expertly managed by Kirstie at Edgefold Homes.

"She kept us informed every step of the way and any questions we had were answered very quickly. It has been such an exciting time, from seeing the development come together and watching the house being built to choosing the kitchen to planning the design and decor of all the rooms.

"We know we made the right decision in choosing Edgefold Homes and would highly recommend them! The house is perfect, everything we ever wanted and more!"

Kirstie Woolley, Sales Manager here at Edgefold, is delighted to welcome Christine and Kevin to Hazelfield Gardens. She said: I have loved working with Christine and Kevin as we planned their move to their new home.

"It is always wonderful to work with people that are so excited about the next chapter of their lives and I know Christine in particular has lots of amazing ideas about how she is going to make it her own.
"It was an absolute pleasure to welcome them as the first residents on this development and we look forward to seeing the community grow in the coming weeks and months.
There are four Lightshaw properties on Hazelfield Gardens, all of which boast four spacious bedrooms, one of them featuring an ensuite, a huge dining, kitchen and family room as well as a utility room and a lounge.
Hazelfield Gardens is made up of 24 three and four bedroom homes. It's showhome opened to the public on Friday 18th February and the last few properties were released.

For more information about Hazelfield Gardens, or any of our other developments please get in contact to arrange an appointment.