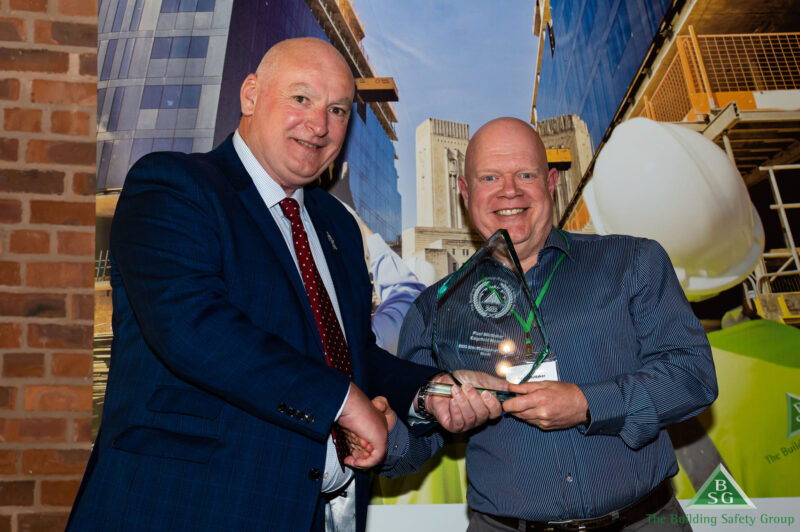 Paul Whittaker, Site Manager at Edgefold Homes, has won the prestigious award of 'Site Manager of the Year 2022 – North'' at the Building Safety Group Health & Safety Awards.
On Wednesday June 8th, the BSG, held its 5th annual awards ceremony at the Avoncroft Museum of Historic Buildings in Bromsgrove, where Paul proudly received his award.
Paul Whittaker, Site Manager at Edgefold Homes said:
"Wow, what an amazing day. Thanks to everyone at BSG for hosting such a great event and for presenting me with the Site Manager of the year award.
Thanks to all my colleagues at Edgefold Homes for their support and our subcontractors for their continued cooperation, it's greatly appreciated."
Jack Seddon, Construction Director at Edgefold Homes said:
"We are delighted that Paul has been awarded the BSG Site Manager of the Year Award and I would like to congratulate him for all his hard work and dedication, which has led to him achieving this renowned health and safety award.
We always knew he was a star but now it's official. Huge congratulations from all your colleagues at Edgefold Homes."
BSG Managing Director, Stephen Bell said:
"The BSG Awards ceremony was once again a national celebration of our members' dedicated commitment to Health and Safety in construction. Recognised award winners such as Paul should be immensely proud of their achievement and highly commended for their admirable approach to reducing risk in the workplace. It is BSG Members like Paul at Edgefold Homes who make a significant contribution to raising the bar when it comes to health and safety standards across the sector, and we offer them our congratulations."
Nominations came from BSG members across the UK, who wished to see their Health and Safety accomplishments recognised by BSG. They announced the winners on Twitter via @BSGLtd and #BSGAwards
About BSG
BSG is the UK's largest construction safety group representing over 800 construction companies. They are a 'not for profit' organisation set up by its members. BSG has been in business for over 50 years. For more information please visit www.bsgltd.co.uk.