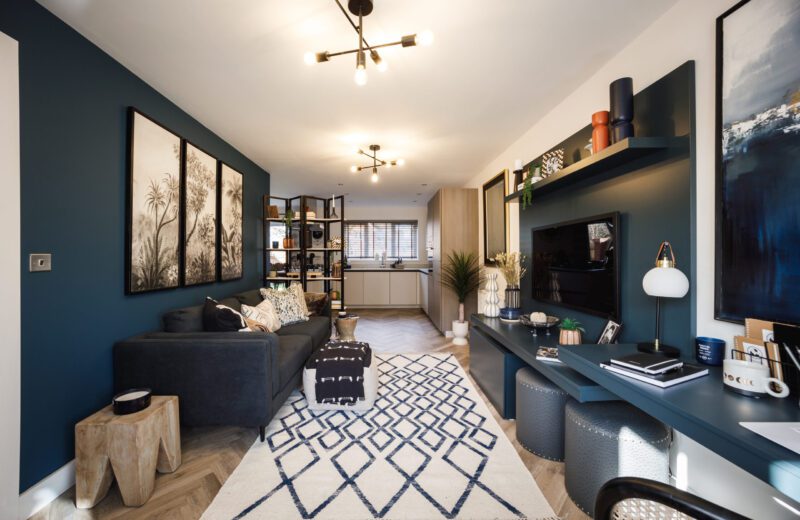 Dining room table, on the sofa, even from the bed… Many professionals have been struggling to work from home for over two years now. But with a new Edgefold Home this will never be a problem for you.
Even though the pandemic may be over, it looks like hybrid working is here to stay, with many people having waved goodbye to their five-day commute and replacing it with a trip down the hallway to their at-home office.
When thinking about new home requirements, it can be easy to focus on a beautiful kitchen area, a spacious garden, or a roomy lounge. However, having a comfortable and practical office space is creeping up many people's priority lists when seeking their new perfect home.
According to research conducted by Zoopla, since the beginning of the Covid-19 pandemic, 4.5 million homeowners re-organised a spare room to create their own office space. With a new Edgefold Home you don't need to lose any spare rooms, we can offer more creative options for you, which save your guests sleeping on the sofa.
A garage can be a fantastic part of the home to transform into the perfect working area, especially for those who don't want to lose their bedroom space. Over the last few years, the conventional garage has transformed from a place where tools and paint pots would once reside; to functional office areas – a much more cost-effective option than an extension!
One of the many reasons why we love our properties at the Richmond Road development is because they boast spacious garages, in addition to driveways with plenty of room, so you don't have to worry about where to keep your vehicle.
For those seeking a less permanent solution regarding hybrid working space, fear not, as home offices can also be multi-functional. The family room at our Hazelfield Gardens development show home is a perfect example. As you enter the family room, to the right is designated office space; however, this area is seamlessly integrated with the overall room. As a result, the family room serves as a dynamic, multi-purpose space for all family members, which is also helpful for younger family members who can utilise this area for studying.
Plus, all Edgefold Homes have beautiful gardens, so for those rare days of British summer, make the most of it and enjoy working al fresco.
Feeling inspired? For more information about our developments, please contact us to arrange an appointment or download one of our brochures today!