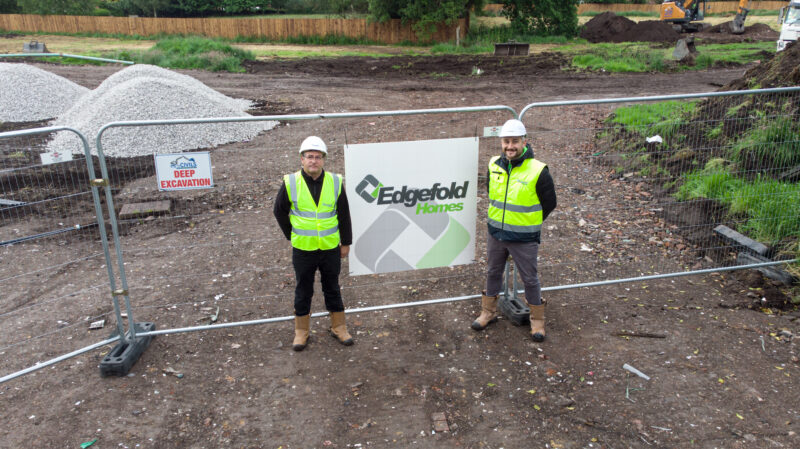 Family construction firm Edgefold Homes has broken ground at their new site, Alderwood Gardens, in the village of Aston near Nantwich.
Work is now underway to build 24 homes at Alderwood Gardens off Whitchurch Road with plans to officially launch the show homes at the end of the year.
Led by Construction Director, Jack Seddon, Edgefold Homes has a rich construction heritage in the North West underpinned by family values and a strong social conscience.
Newly appointed Site Manager, John Wade, will be responsible for the day-to-day build of the two, three, and four-bedroom family homes which will benefit from traditional brick construction and have been designed specifically for this location using local architectural details.  
The homes benefit from being set amongst open spaces, situated near the local village green in Aston.
Jack Seddon, Construction Director explained: "We are delighted to have begun work at Alderwood Gardens in Aston – this is a really exciting development in a beautiful area. We have spent a lot of time designing these homes and ensuring they fit perfectly into this picturesque location matching the architectural landscape.
"As a business, Edgefold Homes is very hands-on and approachable and we look forward to welcoming home buyers onto the site as soon as possible."
John Wade, Site Manager at Alderwood Gardens added:
"This is a great development, in the beautiful village of Aston, Cheshire. I am looking forward to being part of the Edgefold team and working alongside the rest of the Edgefold Team and sub-contractors.'
"I joined Edgefold Homes in February this year and bring 25 years of construction experience to the business. They are the friendliest team I have worked with and look forward to managing this prestigious development."
Find out more about Alderwood Gardens and register your interest online.